Christina Price

Agent

in Lakeport, CA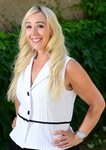 Expertise Types
Land, Ranches, Relocation, Residential, Residential Investment, Single Family Homes
Christina Price is the only name you need to know in Lake County Real Estate. She has spent a majority of her life here and her knowledge of the area is unprecedented. Christina is passionate about the wants and needs of her clients and will go above and beyond to make the business transaction into a lifelong friendship. She has made a high level commitment to her Real Estate education, having been mentored by several of the most highly acclaimed agents in the business. This is reflected in her success and her desire to help her community grow.
Christina sees herself as the NEXT generation of Real Estate. She is always keeping up with the newest technology and the best ways to help her clients achieve their goals. Honesty, Integrity, Trustworthiness, and Tenaciousness is what she prides herself on. Whether it is the seasoned investor or the nervous first time buyer, it is the journey to the finish line that makes Christina feel like she has the best job in the world!
Whatever brings you to Lake County, the gorgeous outdoors--- the wineries --- the fresh air or the Lifestyle of Clear Lake... Christina is always out checking what is going on around the Lake. She is an avid fisherman, self proclaimed "foodie", loves live music and anything where she can find people laughing and having a great time. When she isn't out in her community she can be found spending time with her friends, family and her French Bulldog Banks Bonez.